Welcome to
Island Waterpark at Showboat
Our retractable awning lets in the summer breeze while keeping winter's chill out, ensuring it's always a tropical paradise. With 11 thrilling waterslides, 4 fantastic restaurants, 3 lively bars, and access to the world's largest arcade, your island adventure is just a splash away!

The excitement never stops!
Tickets, Extras, and Offers
Dive into a world of thrilling water attractions, unforgettable moments, and access to the largest arcade in the world!
Seasonal Hours:

Monday & Friday: 12 pm - 7 pm
Saturday & Sunday: 11 am - 8 pm
Admission, Add-Ons, and Offers
Dive into a world of thrilling water attractions, unforgettable moments, and access to the largest arcade in the world!
Hours:
All Ages:
Monday & Friday: 12 pm - 7 pm
Saturday & Sunday: 11 am - 8 pm
Paradise Island (21+ Only):
Tuesday to Thursday: 12 pm - 6 pm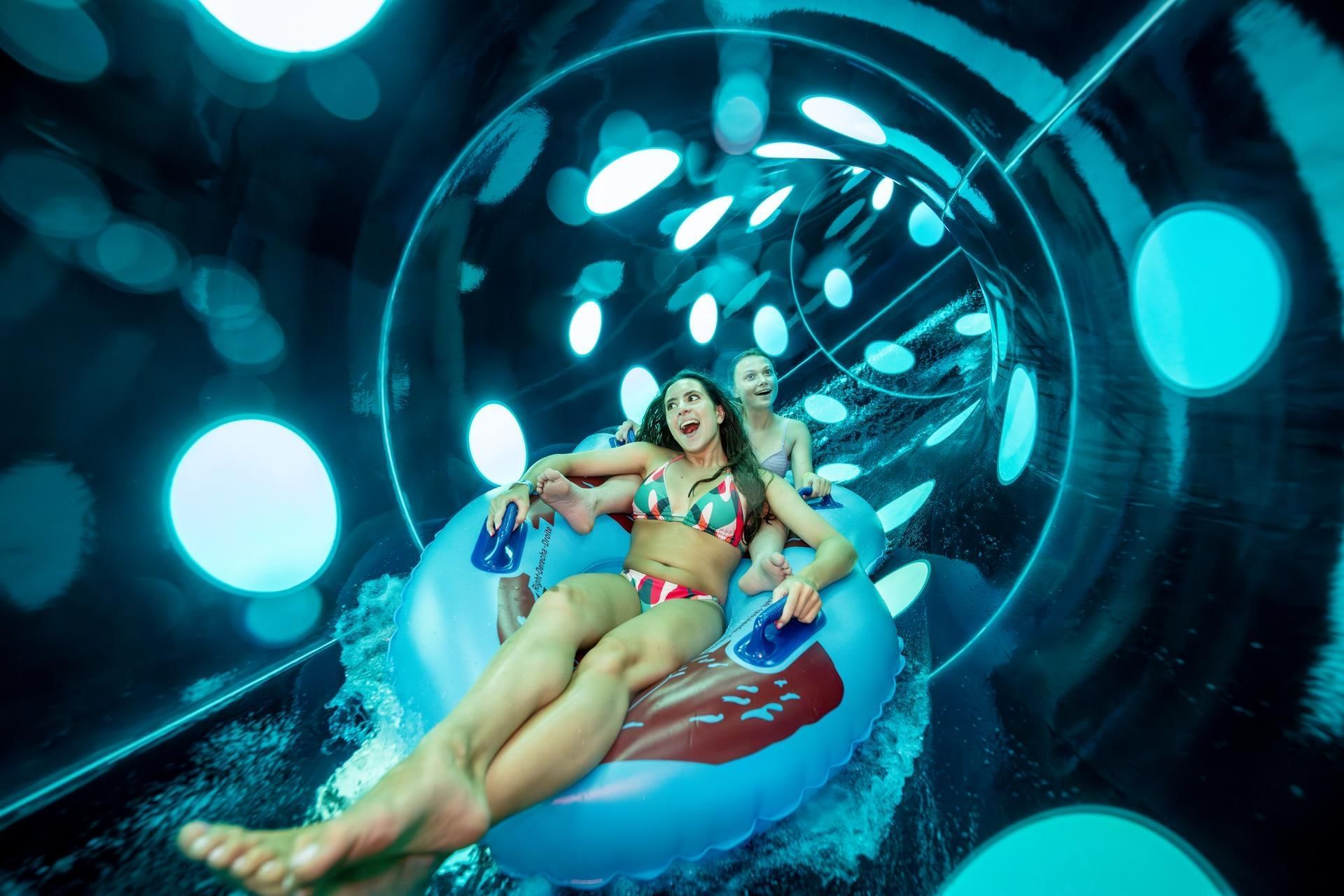 Water Attractions
Float down the lazy river, race with friends, surf a gnarly wave, or just go with the flow on our wickedly wet and wild water attractions!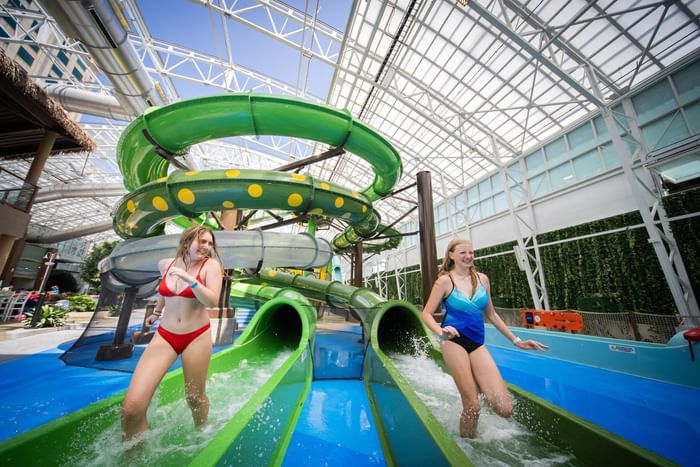 Slide Island
Escape to our island of five waterslides that are the perfect attraction for our youngest thrill-seekers.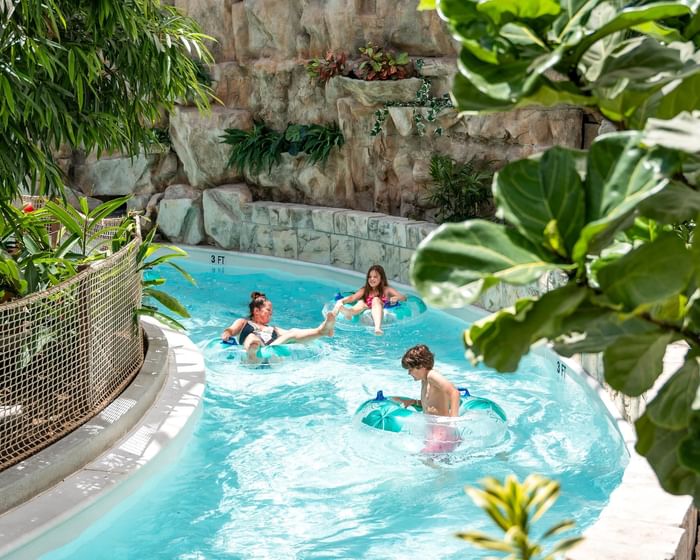 Island Drift Lazy River
Spanning almost the entire length of the waterpark, relax and float downstream as you take in all the amenities and attractions of Island Waterpark.
Wild Wave Flowrider
Wild Wave FlowRider produces the perfect wave so you can "hang ten" all year-round! General admission to Island Waterpark offers an amazing bodyboarding experience. To master the art of stand-up surfing, book a Flow Rider Experience!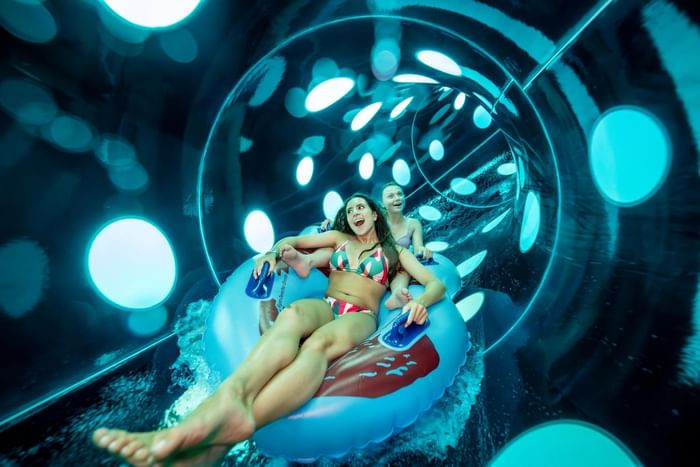 Electric Eel
Full of tight corners and high-banking turns, this wild and winding slide is thrillingly fun.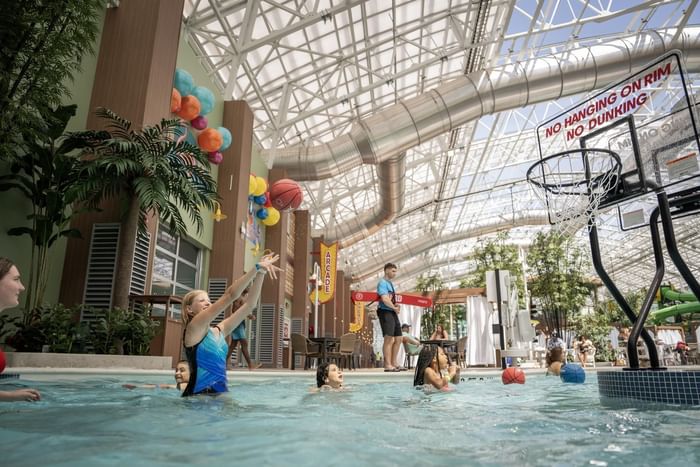 Adventure Pool
Jump into neverending adventure in this sports activity pool.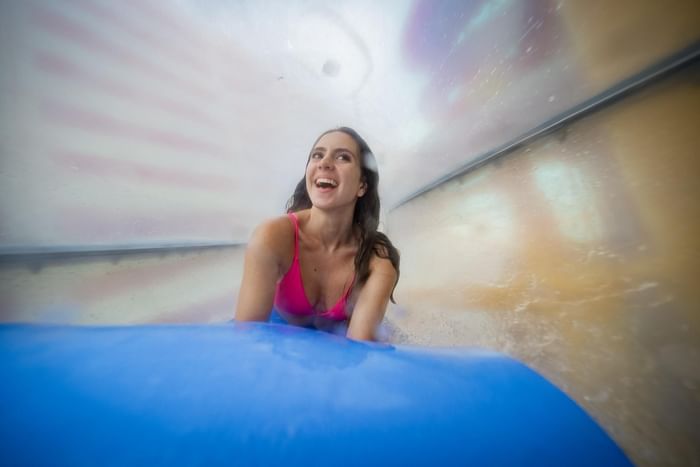 Barracuda Blaster
Feel the awesome acceleration and the g-forces on each turn pushing you farther down into your tube.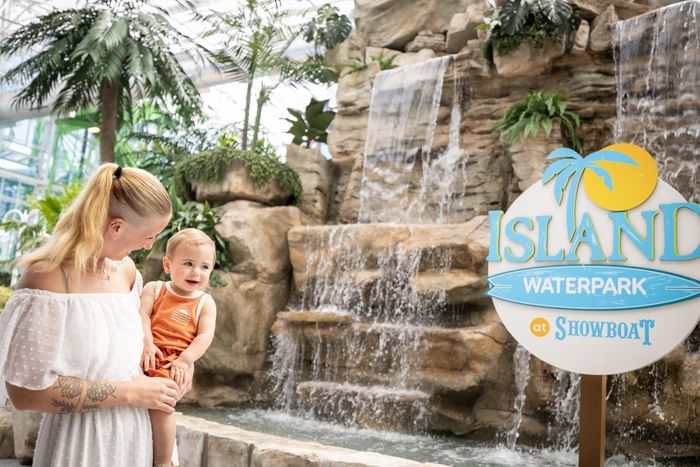 Blue Cascade Waterfall
This man-made waterfall is one of the largest custom aqua forms in the world. A true spectacle to behold.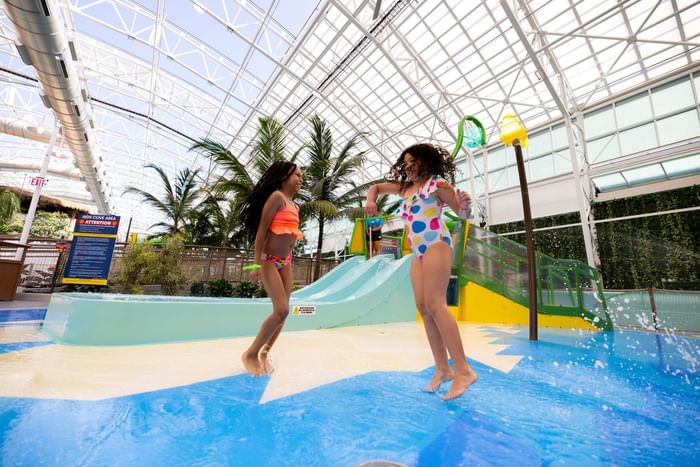 Kids Cove
This perfectly sized kids retreat is made just for the little ones to slide and enjoy interactive water activities.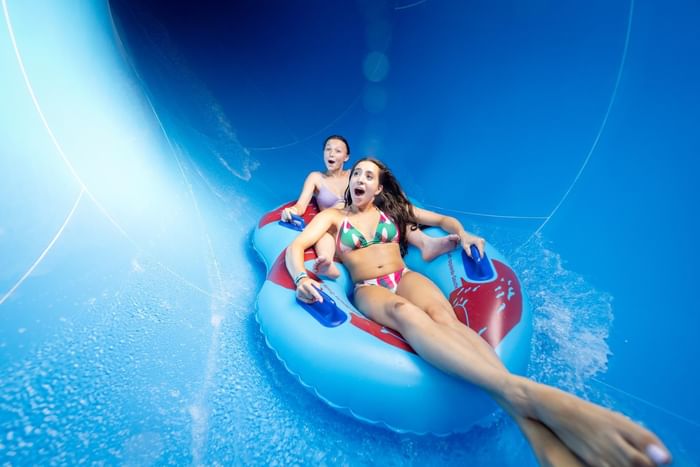 Sonic Serpent
This thrilling tube slide focuses on speed while it wraps around the building and other waterslides.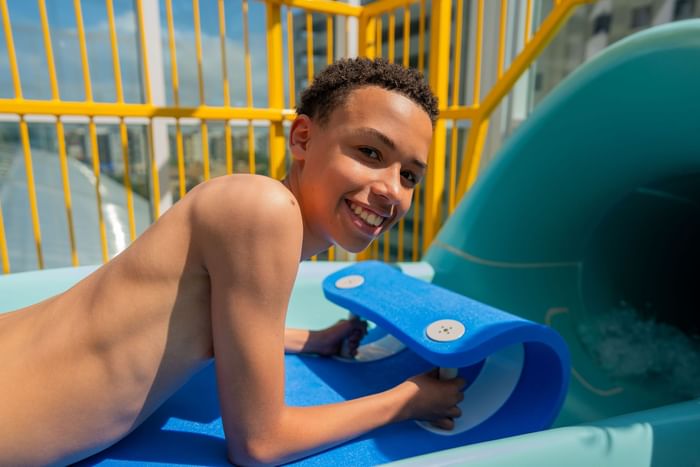 Tidal Racers
Fly headfirst down these dueling mat racers and compete with friends to see who has the greatest need for speed.
Paradise Adult Island at Island Waterpark
Welcome to Paradise Adult Island, the 21+ destination where you'll bask in year-round tropical bliss. Our stunning impact windows gracefully swing open to welcome the summer breeze and securely seal to ward off winter's chill, guaranteeing an endless tropical escape. Our cabana rentals provide the perfect setup for unforgettable celebrations, featuring screens that keep the party vibe going. Dive into the excitement at our swim-up bars, enjoying cocktails that add zest to your evening. For sports enthusiasts, our bar is equipped with over four screens, ensuring you never miss a moment of the action in this adult paradise.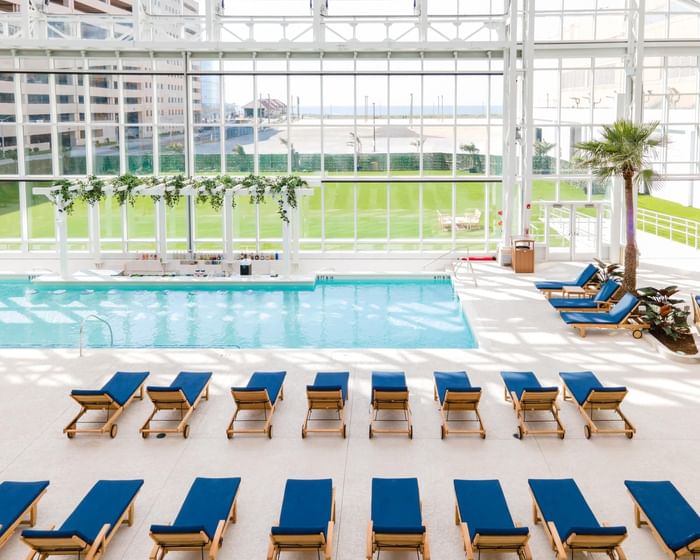 Bliss Pool
Pulsating adults-only pool facing the Atlantic Ocean. Accompanied by two dry bars and one swim-up bar with DJ entertainment.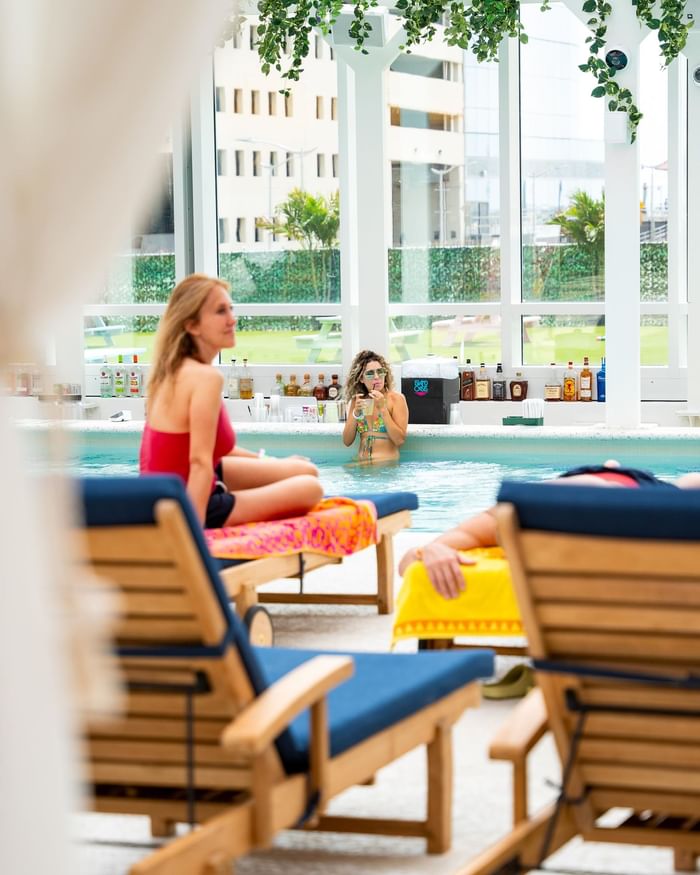 Swim-up Bar
Enjoy your favorite beverage without ever leaving our adults-only Bliss Pool. Submerged stools facing a view of the Atlantic make it the place to be.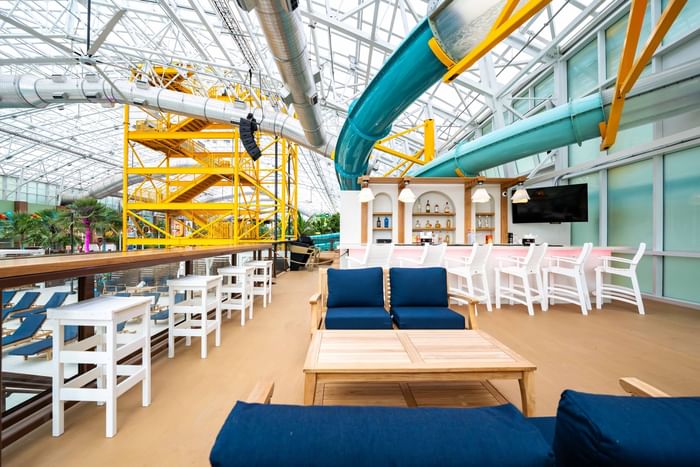 UPPER MEZZANINE
The Upper Mezzanine at Paradise Adult Island is your top choice for party rentals. It's the ultimate place to host unforgettable celebrations, with an exclusive personal bar and a live DJ setting the mood.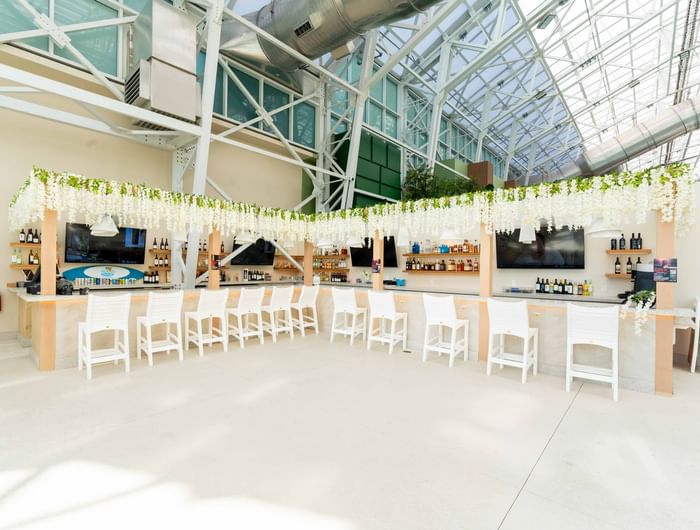 Paradise Bar
Multiple screens await game day, providing the perfect backdrop for friends to relax over drinks in our year-round tropical oasis. Let's save the snow for the athletes on the field, Piña Colada in hand!
Lucky Snake Arcade
The World's Largest Arcade!
Dive into double the fun at Lucky Snake Arcade, our lively neighbor at Island Waterpark in Atlantic City! Amp up your adventure by loading arcade credits onto your Island Waterpark wristband – it's a one-stop ticket to waterpark thrills and arcade excitement! Wet slides, retro games, and endless fun await!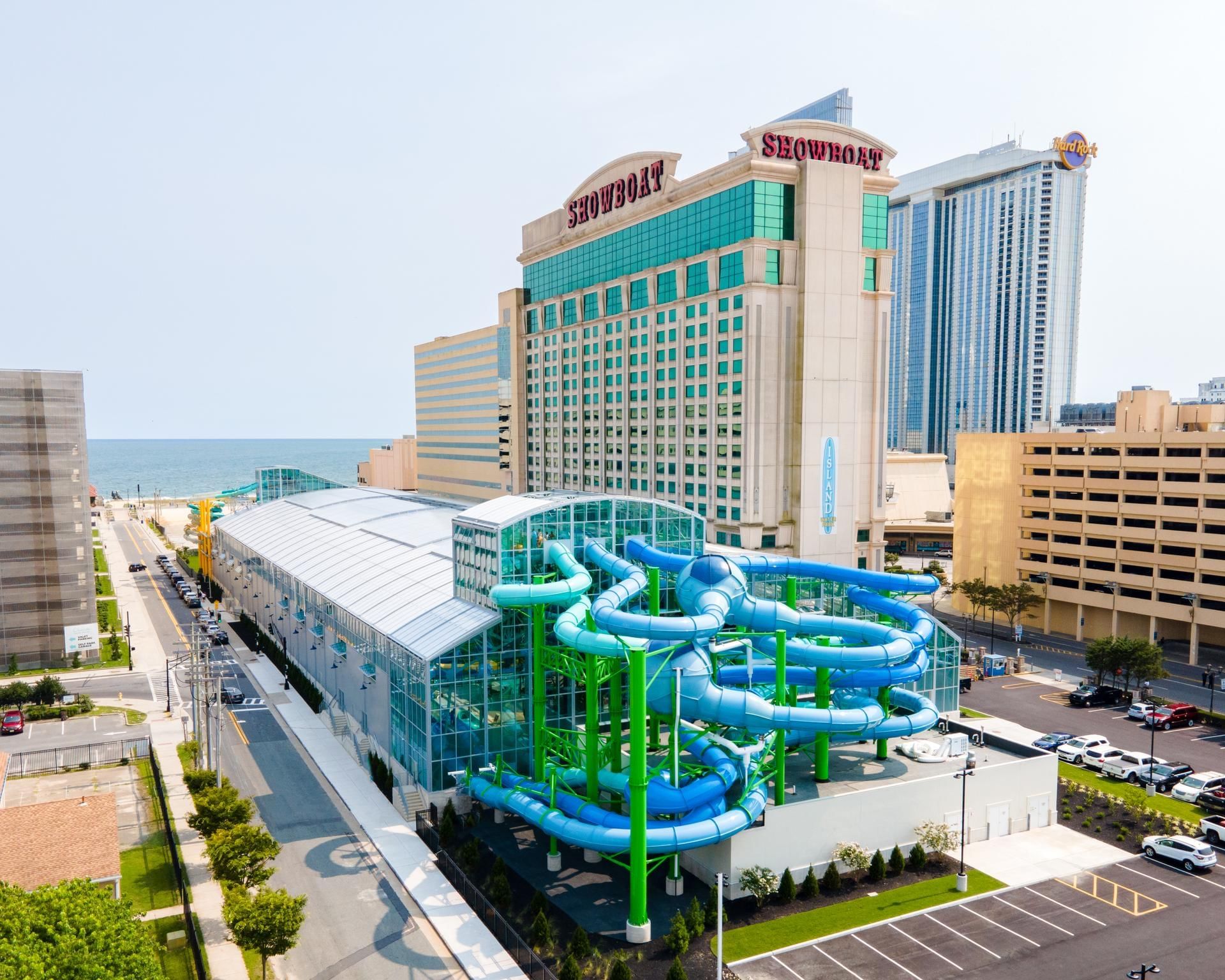 Stay with Us
at the Showboat Resort
Stay close to all the action in the newly renovated Showboat Resort. Select from 477 guest rooms, 36 Balcony Suites featuring the only balconies on the Atlantic City Boardwalk, two Super Suites, and 16 Junior Suites.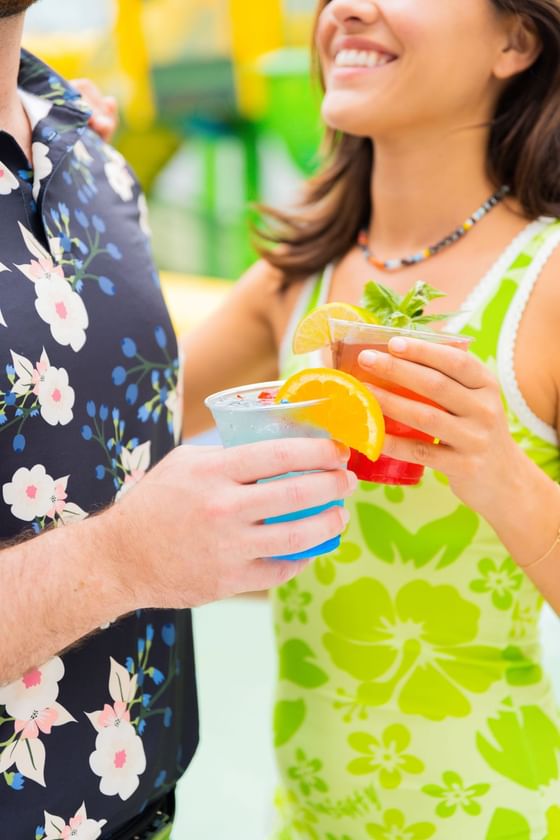 Celebrate with us
Make your party a splash!
Discover the perfect party venues at Island Waterpark! We offer party rooms, lively bars, decoration options, catering and professional bartending service to make your celebration truly special. Contact us now by filling out the form below to get started on your unforgettable event!
Contact Us